Kitchen Remodeling and Design Services
Let us design and install your new kitchen.
3 Steps To a Brand New Kitchen
1. Get in Touch
We'll discuss your goals and budget, and schedule a time to meet.
2. Free Consultation
Get a free in-person visit and receive an estimate.
3. Remodel & Install
We'll build you a beautiful kitchen. Just as you envisioned!
Design scope: Your Trusted Partner in Kitchen Renovations
Welcome to Design Scope, a leading kitchen renovation provider in Bloomfield, Connecticut.
We specialize in transforming ordinary kitchens into extraordinary spaces where memories are made and shared.
Our Kitchen Remodel Process
Our comprehensive kitchen renovation services covers everything from design planning to installation. We believe the heart of your home deserves a personalized touch. That's why our services include:
Design Consultation: We start with an in-depth consultation to understand your style preferences, functional needs, and budget.
Layout Planning: We'll help you plan the perfect layout for your kitchen to maximize space and functionality.
Material Selection: We assist in choosing high-quality materials that match your aesthetic and stand the test of time.
Installation: Our team of professionals ensures a seamless installation process, handling everything from cabinetry and countertops to appliances and fixtures.
We'll Make It Happen For You
Over the years, we've transformed countless kitchens, leaving a trail of valued and satisfied clients. From small-scale remodels to complete kitchen overhauls, we pride ourselves on delivering results that exceed our clients' expectations. But don't just take our word for it; check out our portfolio for a glimpse of our successful projects.
Ready to Remodel Your Kitchen?
Get in touch and let's discuss your project. We serve Hartford County, CT and surrounding areas.
What Sets Us Apart
Unlike other kitchen renovation companies, Design Scope goes above and beyond to deliver a personalized experience.
Our dedicated team works closely with you throughout the entire process, ensuring your vision comes to life.
We also prioritize transparency, providing detailed project timelines and cost estimates upfront.
What You Can Expect:
Conceptualization: We begin by discussing your ideas and needs for your dream kitchen.
Design Development: Next, we create a detailed plan, including 3D renderings of your new kitchen.
Permit Acquisition: We handle all necessary permits and permissions to ensure a smooth renovation process.
Construction: Our team gets to work, adhering to the highest standards of quality and craftsmanship.
Final Review: We walk you through your new kitchen, ensuring every detail meets your satisfaction.
Additional Kitchen Services
To further customize your space, we offer additional services such as custom cabinetry, innovative lighting solutions, and high-end appliances.
We source from reputable brands and outlets, demonstrating our commitment to quality and style.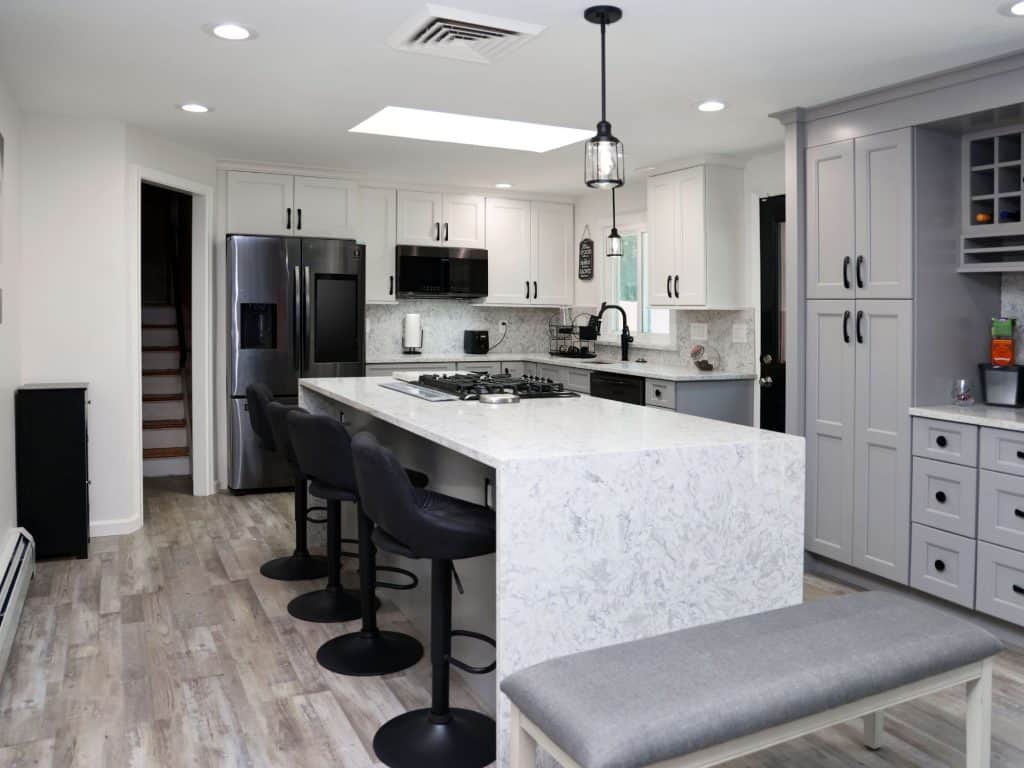 "Design Scope has done such beautiful work on our kitchen. I love, love, love it! Not only are they general contractors, but they have the background of interior designers! Service, design, and PASSION for the job is 10 out of 10. Every homeowner in the Hartford and Bloomfield area should hire them."
Kathy – Avon CT
Get in Touch
Ready to create your dream kitchen? Contact us or send us an email us. We are licensed in the state of Connecticut, ensuring so you're in safe hands.
Take the first step towards your dream kitchen by scheduling a free consultation today. And trust Design Scope to bring your vision to life, one tile at a time.