Remodeling a kitchen is a big job.
There are so many decisions to make and it's difficult to know where to start. But remodeling your kitchen does come with some amazing benefits.
And, not only will you enjoy cooking more in your new kitchen, but you'll also see an increase in the value of your home.
So, in this blog post, we'll explore the benefits of remodeling a kitchen.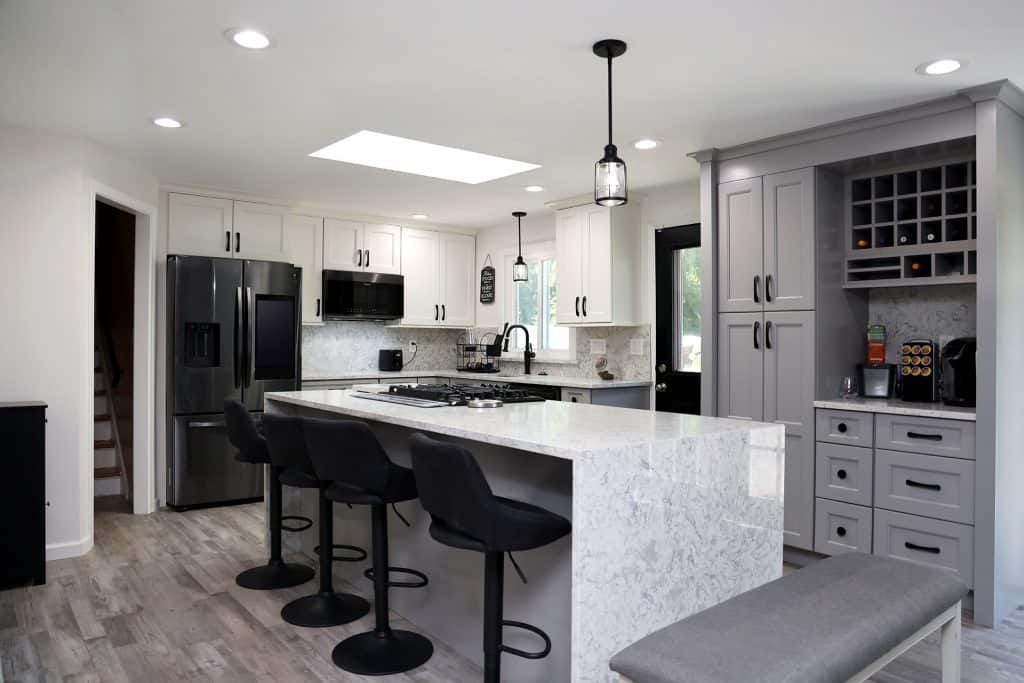 What Are The Benefits of Remodeling a Kitchen?
1. Improved Efficiency
Remodeling one's kitchen can improve efficiency in multiple ways.
You can improve the energy efficiency of your kitchen by installing new energy-efficient appliances. New appliances will also be safer, as older appliances can be a fire hazard.
You can also ensure you have effective insulation in place by installing energy-efficient windows and doors. This'll reduce your energy consumption and save you money on your utility bills.
Finally, an eco-friendly redesign of the kitchen will create a better and more comfortable environment.
2. Improved Aesthetics
Remodeling a kitchen can improve its aesthetics in several ways.
One of the key benefits is the opportunity to incorporate modern design trends while still preserving a warm and inviting atmosphere.
We can achieve this by combining classic and modern elements in the space, as well as choosing natural materials such as wood finishes for cabinets. Darker wood cabinets can provide a rustic, cozy feel, while lighter colors can give off a
more elegant look.
In addition, buyers are often willing to pay higher prices for homes with up-to-date and attractive kitchen designs. Resurfacing cabinets can give the kitchen a completely fresh look and feel, and getting rid of unnecessary elements can make the space look and feel cleaner.
And, thoughtful lighting choices can set the tone for an entire kitchen design. From traditional chandeliers to modern and whimsical pendants, the right lighting can give the kitchen a unique personality and character.
3. Enhanced Safety
Remodeling your kitchen is an excellent way to keep up with modern safety codes, as well as improve the overall look and feel of your home.
Outdated electrical wiring presents a potential danger of short-circuiting or fire, and taking the steps to replace it will not only safeguard you and your family but also bring your kitchen up to code.
Installing a fire extinguisher somewhere in the kitchen is always a good idea, especially in an older home where safety features may not already be up to date.
With these simple steps, you can easily bring your kitchen up to standard and into the 21st century regarding safety.
4. Improved Conveniences
Remodeling a kitchen can bring many convenience benefits, such as shorter cooking times with faster and more efficient kitchen appliances, better storage solutions to reduce clutter, improved safety with well-designed spaces, and easier access to items.
Newer and advanced technology-enabled kitchen appliances bring convenience to users by providing comfort and safety.
With induction cooktops, dual-fuel ranges, dishwashers that are quieter and more efficient, French door refrigerators, and refrigerator drawers, a new kitchen can make cooking easier and faster.
Remodeling the kitchen can help speed up finding a willing buyer at the time of resale.
5. Improved Resale Value
Remodeling a kitchen can have a significant impact on the resale value of a home.
A modern, updated kitchen can help attract potential buyers and make the home more marketable. And remodeling a kitchen can increase the value of the home and help the homeowner recoup the costs of the renovation.
This can be especially beneficial if they are looking to downsize or move into a different area.
6. Increased Satisfaction
Remodeling a kitchen can significantly increase satisfaction with the home.
It provides an opportunity for homeowners to make their kitchen truly theirs, as it can be designed to reflect their tastes and preferences. With the right combination of materials, finishes, appliances, and accessories, homeowners can end up with a kitchen they love.
This will make them enjoy spending time in the space and create lasting memories for years to come.
What Should You Consider When Remodeling Your Kitchen?
When remodeling your kitchen, it's important to take into consideration both design and function.
You want to make sure the kitchen is aesthetically pleasing, but also that it serves its purpose efficiently and meets your needs.
If you're planning on selling the home in the future, then investing in quality materials will pay off when potential buyers see the updates.
Consider any additional features that might be helpful, such as task lighting to make it easier to work in the kitchen or an island for extra counter space.
The Need for Functionality When Remodeling a Kitchen
Functionality is the ability of a kitchen to provide optimal convenience, comfort, and efficiency in performing tasks.
A kitchen needs to be designed and equipped with features and equipment that'll help maximize convenience and efficiency when cooking and cleaning.
Functionality is important for a kitchen remodel because it allows for a kitchen that works for the homeowner's needs. When a kitchen is designed for a specific purpose, it allows for features and appliances to be used to their fullest potential.
A functional kitchen makes tasks easier to accomplish, such as providing adequate storage space for food, appliances, utensils, and other items.
It also provides easy access to countertops and appliances, making it easier and more efficient to cook and clean.
Functionality is also important for a kitchen remodel because it can be beneficial for those with disabilities or mobility issues.
We can install special features and equipment to make the kitchen easier to use, and more accessible, for those with disabilities or mobility issues.
This can make the kitchen more usable for those with special needs, allowing them to live more independently.
Your Remodeling Budget
When remodeling a kitchen, it's important to keep your budget in mind. Consider how much you can afford to spend and what improvements will give you the most value for your money.
Some items you may need to consider investing in include cabinets, appliances, countertops, flooring, lighting, and hardware.
The amount you spend will largely depend on your goals and budget. On average, a small kitchen remodeling project costs between $12,600 to $30,300.
And a large, full kitchen renovation can cost $50,000+.
The Size of Your Kitchen
The size of your kitchen can have an enormous impact on the remodeling decisions you make.
Smaller kitchens can feel uncomfortable, cramped, and limit your activities within the space.
To increase kitchen space and make it more functional, remodelers can look at the layout of your home and provide options for opening up the area. This could include installing rollout shelves for more storage, as well as multitasking with spaces that can be used for more than one function.
Small kitchens often require scaled-down kitchen sinks, smaller dishwashers, and larger floor tiles to make the area look bigger.
Versus a larger kitchen that might require an island, a second sink, a pantry, or more cabinets to make the space more efficient and comfortable.
Just keep in mind the size of your kitchen when deciding to remodel, because you want to get the most out of the space.
Finding a Reliable Kitchen Remodeling Contractor
If you're looking to remodel your kitchen, hiring a reliable contractor is the first step.
Here is a step-by-step guide to finding a reliable kitchen remodeling contractor:
Do your research: Research local contractors, their services, and reviews. Read customer reviews to get an idea of who you are potentially hiring.
Get quotes: Get quotes from contractors to compare their services and prices.
Ask questions: ask questions about their level of experience, the materials they use, and how they plan on completing the job.
Get a timeline: Ask for a timeline of when the job will be completed and how much it will cost.
Sign a contract: read and understand the contract before signing.
By following these steps, you will find a reliable kitchen remodeling contractor who can help bring your vision to life.
Your Appliance Options
When remodeling your kitchen, there are a variety of appliance options available to fit your needs.
You can choose from ovens that cook faster and better, using new technologies. Induction cooktops have added a new dimension to cooking, and dual-fuel ranges give you the best of both gas and electric cooking.
Dishwashers are quieter, more efficient, and do a better job of cleaning your dishes. French door refrigerators allow for easier access than traditional side-by-side units.
You could also switch to energy-efficient models, such as electric stoves or LED models, or cabinets made with sustainability in mind. Or even intelligent ovens that connect to smart devices.
These are just a few of the options available when upgrading your kitchen.
The Layout of Your Kitchen
When it comes to remodeling a kitchen, there are several factors to consider in order to create a functional and efficient layout.
For starters, it's important to think about how often you will be using the kitchen and how many people will work in it at the same time. This will help determine the size and shape of the layout, as well as the necessary storage and appliances.
Additionally, it is important to consider how much space is needed for food preparation, cooking, dining, and entertaining.
Another factor to consider is the type of design you want. Do you prefer a traditional kitchen with a separate cooking, dining, and entertaining space? Or do you want a more open layout, where the kitchen flows into the living space?
Depending on your preferences, different floor plans may work better for you.
By taking the time to consider all of these aspects, you can ensure that your new kitchen will be both beautiful and functional.
Any Design Changes or Kitchen Upgrades You'd Like
When remodeling a kitchen, there are several design changes and upgrades to consider.
These Design Changes and Kitchen Upgrades Include:
Changing the floor plan to provide more space
Installing a new hood above the range
Updating the countertops with quartz or granite
Changing the style or finish of cabinet knobs and pulls
Adding new lighting fixtures for brightness
Updating plumbing fixtures, adding a backsplash tile of choice
Investing in new appliances
Creating a larger countertop area
Installing a kitchen island or walk-in pantry
Adding wall shelving to create more storage
Decorative cabinet options
Hire Design Scope For Your Next Kitchen Project
Remodeling your kitchen has so many benefits: it modernizes the look of your home, adds value and safety, and increases efficiency.
Hiring a quality design-build contractor is the best way to ensure your project runs smoothly and efficiently from start to finish.
Design Scope understands the importance of selecting the right kitchen remodeler for your needs, that's why we offer an experienced team to help you create your perfect kitchen.
And if you're designing a kitchen from scratch, you'll have even more flexibility in design choices.
So if you're ready to remodel your kitchen, give Design Scope a call today!
Kitchen Remodeling FAQs
What should I consider when remodeling a kitchen?
When remodeling a kitchen, there are a few important factors to consider. First, think about the size of the kitchen and whether you want to make it larger by knocking down a wall or if a smaller kitchen could be more cost-effective. You should also consider the type of materials you want to use, such as custom cabinets, tile flooring, countertops, and appliances. You should consider the functionality and layout of your kitchen and how it can be improved to make it more efficient. Finally, when selecting a style, look for one that suits your tastes and matches other areas in your home.
What are the most common materials used for kitchen remodeling?
The most common materials used for kitchen remodeling include cabinets, countertops, tile, and appliances. Cabinets can be made from wood, metal, or a combination of both, and countertops can be made from a variety of materials, such as granite, quartzite, quartz, ceramic, porcelain, wood, and stone. Tile is an integral part of kitchen design and can be used for backsplashes and floors to provide a decorative element and easy-to-clean surface. Lastly, appliances can range from stovetops to microwaves to energy-efficient appliances with smart technology and temperature monitoring. Skylights are also a great addition to help bring in natural light and reduce energy costs.
What are the most important features to consider when remodeling a kitchen?
First, think about the size of the kitchen and plan an efficient workflow to make the most of the available space. Consider adding versatile lighting options to help make the space brighter and more enjoyable. Second, choose a style that you love, such as traditional, modern, country, or contemporary. You may want to match the design to other areas of the home to create a cohesive feel. Next, think about updating any appliances that are no longer functioning properly or are outdated. Finally, consider other safety features such as motion sensors near sinks or stovetops. Making sure the kitchen is a safe and secure environment is essential.
What is the average cost of a kitchen remodel?
The average cost of a kitchen remodel can vary greatly depending on the size of the space, the type of materials used, and labor costs. Generally, you should expect to spend anywhere from $10,000 to $30,000 for a full kitchen overhaul. It's important to budget for these unexpected costs when planning your remodel.
What should I look for in a kitchen remodeling contractor?
When you're searching for a kitchen remodeling contractor, it's important to find one who will listen to your needs and ideas, so you can trust the process and have the best home renovation experience.
Here are some things to look for in a kitchen remodeling contractor:
Experience – Be sure to pick a contractor with a proven track record of successful kitchen remodels. Ask for references and look at their portfolio to make sure they have the right skills and experience for your project.
Communication – Make sure your contractor is open and honest with their communication. They should clearly explain their ideas and plans to you, and be available to answer questions or address any concerns you have.
Quality – Choose a contractor that uses high-quality materials and has access to the latest trends and technologies in kitchen remodeling.
Flexibility – Choose a contractor who is flexible and able to work with your timeframes and budget.
Customer Service – Choose a contractor who puts you first and puts your needs ahead of their own. They should work with you to make sure you are getting the kitchen of your dreams.
How can I maximize countertop space when remodeling a kitchen?
Remove and relocate cabinets: professional remodelers can look at the space you have available in your kitchen now and tell you how to make the most of it by removing and relocating cabinets, which can help create more space for countertops.
Knocking through partitions or walls: if you have any walls or partitions in your kitchen, knocking them down can create more room for a larger countertop area.
Remove unnecessary closets: taking out any unnecessary closets can also help create more room for countertops.
Moving appliances: if your kitchen is too cramped for countertop space, moving some of your appliances to other areas of the house can make room for more countertop space.
Create a kitchen island: you can create a kitchen island, which will provide more countertop space.
Install in-built cabinets: installing in-built cabinets can help create more countertop space, as well as provide storage for kitchenware.
Upgrade to a more spacious refrigerator: upgrading to a larger refrigerator can help create more countertop space.
Install under-cabinet lighting: cabinet lighting can help make the most of the countertop space by creating a well-lit area for food preparation.
What are some common kitchen remodeling mistakes to avoid?
Not measuring accurately: Before beginning a kitchen remodel, it is important to measure the existing space and plan accordingly.
Ignoring traffic flow needs: It's essential to consider the amount of foot traffic in the kitchen when designing an efficient layout.
Underestimating budget and time requirements: It's important to be realistic about the budget and timeframe for your kitchen remodel.
Choosing the wrong materials: Make sure to choose durable, high-quality materials that match your style when remodeling a kitchen.
Not researching appliances and fixtures: Take the time to research appliances and fixtures before making any purchases in order to ensure they are the right fit for your kitchen.
Skimping on lighting: Good lighting is essential in a kitchen, both task and ambient types, so make sure to budget for this when remodeling.
Failing to install adequate storage: A lack of storage can cause clutter and disorganization, so be sure to include plenty of cupboards and drawers when remodeling.
Neglecting ventilation: Proper ventilation is essential in a kitchen, so make sure to include exhaust fans or windows for proper air circulation.
How long does a kitchen remodel usually take?
A kitchen remodel can take anywhere from several weeks to several months depending on the size and scope of the project.
It's important to factor this into your timeline before beginning the remodel and make sure you are prepared to invest time into the project.
The first step in a kitchen remodel is typically to consult with a professional remodeler or contractor who can review the space, discuss your goals and vision, and make suggestions on how to best maximize the space you have available in your kitchen.
Once the design plan is complete, the next step is to begin the actual construction. This can involve removing and moving cabinets, knocking through walls or partitions, removing unnecessary closets, and moving appliances, as well as other necessary construction tasks. If you're dealing with plumbing or electrical fixtures, these will also need to be addressed, which can add additional time to the project.
The last step is the installation of the finishes, such as painting, applying wallpaper, and adding decorative touches like hardware and appliances. This part of the process can take a few days or several weeks depending on the level of detail desired. At the end of the project, you should have a kitchen that meets your needs and is both beautiful and functional.
How often should you remodel a kitchen?
There is no definitive answer to this question as it depends on several factors, such as the size of your kitchen, how often you use it, and how much wear and tear it experienced. But, most experts recommend remodeling your kitchen every 10-15 years.
What adds value to a kitchen?
Some things that can add value to a kitchen are high-end appliances, custom built-ins, custom cabinets, granite countertops, and a stylish backsplash. These features will make the kitchen more appealing to potential buyers and help increase the value of the home.